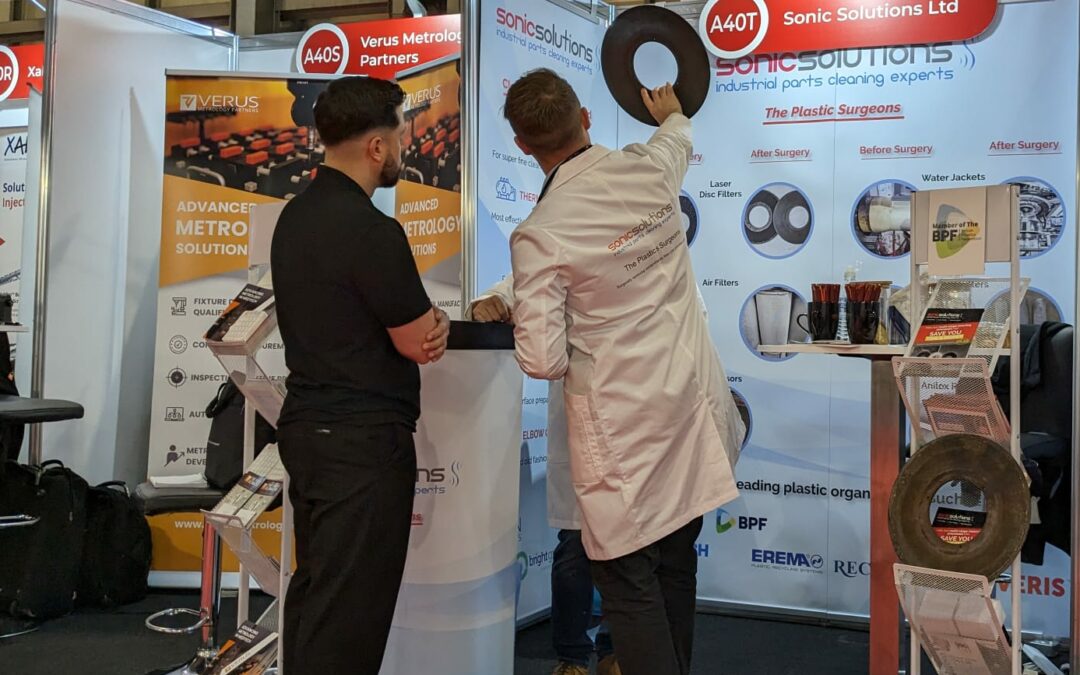 Hello from Sonic Solutions! We're excited to share our exhilarating experience at  Interplas – the UK's largest plastics industry exhibition.
As rookies, we knew we had to make a splash, and with a little help from our friends at PlastikCity, we did just that. They were our guiding star, providing us with a booth and the insights we needed to navigate this new terrain.
Our mission was to stand out, and we embraced this challenge wholeheartedly. We transformed our stand into a unique spectacle, giving birth to the "Plastic Surgeons" concept. Enter Dr. Andrew and Dr. Ben, our very own dynamic duo, dressed in white coats and stethoscopes, ready to perform "health checkups" on industrial parts. What began as a light-hearted idea quickly became the talk of the exhibition, drawing crowds and sparking curiosity.
Our engagement went beyond the visual flair. We actively networked, scanning badges, gathering names, and offering free trial cleans to potential partners. Each interaction was a step towards building lasting connections.
The highlight of our stint was when Dr. Andrew delivered a compelling speech, captivating the audience, with Dr. Ben ensuring an attentive crowd. This wasn't just a presentation; it was the start of meaningful dialogues and connections that extended well beyond the confines of the exhibition hall.
Our time at Interplas 2023 was not just an exhibition experience but a launchpad for future endeavors. The "Plastic Surgeons" concept, embodied by Drs. Andrew and Ben, symbolise our commitment to innovation, fun, and a fresh approach in the plastics industry. They're not just a one-time gimmick; they're a testament to our brand's unique identity and forward-thinking approach.
At Sonic Solutions, we're just getting started. Interplas was the beginning of an exciting adventure in innovation and exploration in the plastics industry. Stay tuned for more updates as we continue to break new ground and push boundaries!
Stay tuned for more exciting developments as we continue to make waves in the world of plastic (and medicine). Until next time, trust in Sonic Solutions for all your industrial parts cleaning needs! 💊🔧🌡️