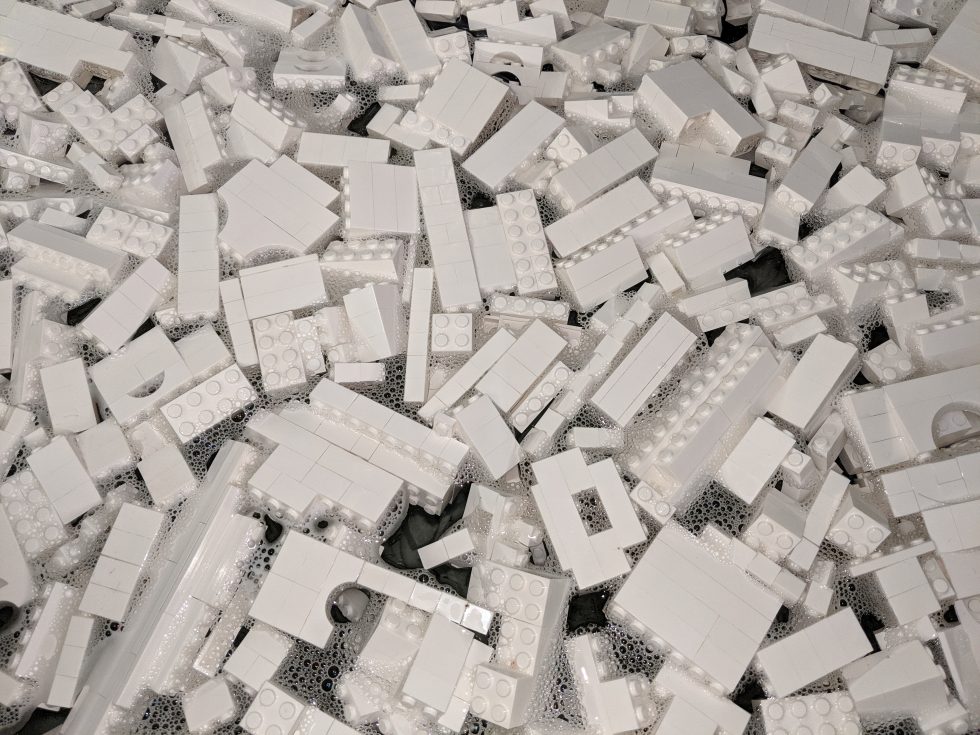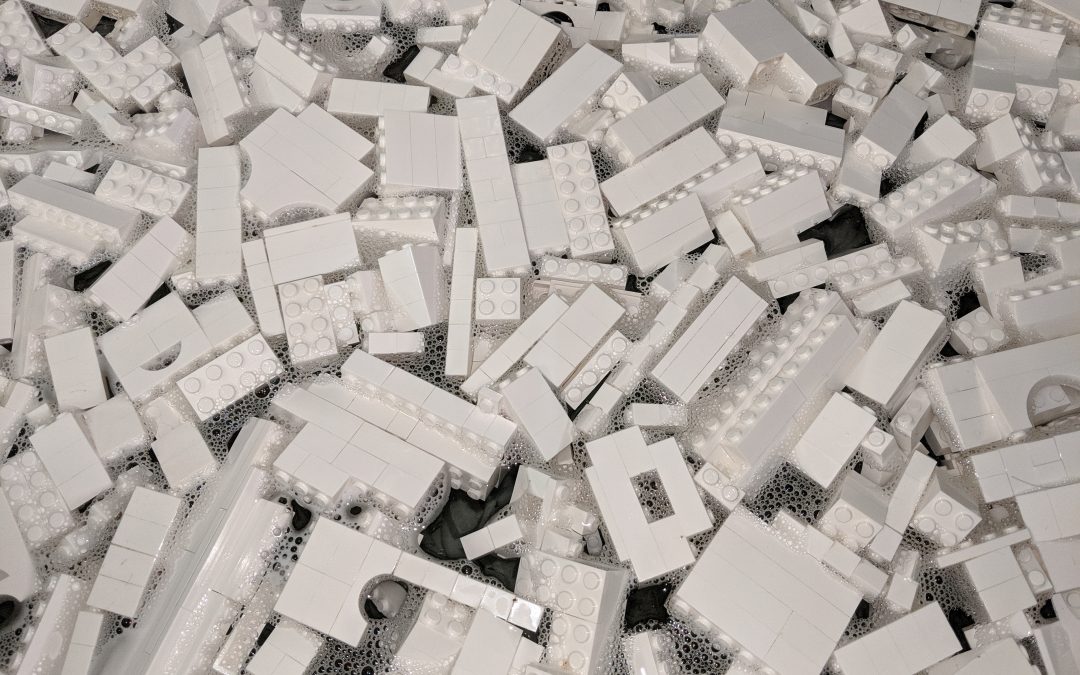 This post is about one of the biggest single jobs Sonic Solutions has ever undertaken. It all started with a call from a brand new customer who works for a very large and well-known art gallery in London.  He said he had an issue and needed some lego cleaning as it has been on exhibition as part of an interactive display. For 6 months the city of London had its grubby little hands all over it. Contaminants included but not limited to – Hair, skin, grease, fluff, dust, dirt, grime, bodily fluids and more hair. The lego was supposed to be a brilliant white colour, every piece, and it was far from its shiny clean self.
With no time to waste as the Lego was heading overseas very soon, we accepted the job as we knew ultrasonics would work very well on the small hard plastic pieces and lego being lego it needed something that would penetrate into the tiny small crooks and crevices of the tiny parts.
Seven, 2-meter tall pallets landed at our doors with 20 boxes of Lego on each, weighing a staggering 1 metric tonne. Needless to say, even with a team of 5 working on this, we knew we had one hell of a job ahead of us. We devised a system in which we would pack the lego into baskets 1 box at a time and add them to the ultrasonic tank, into a rinse tank and then dry, Sounds simple right? Wrong, the mesh in the basket was just the right size so that when facing lengthways the lego would slip out between the mesh.
The second problem was the phenomenon of floating lego, 70% of it sank and the rest floated, even identical parts, so the baskets are useless and some of it floats. Back to the drawing board we went, unfortunately for us, the only way past this was manual intervention, we had to literally tip thousands of pieces of lego into the tank, constantly mixing it like a coven of witches, then we had to use around 20 sieves to fish out and collect the cleaned lego to individually rinse it before adding to the next stage of the clean which was the de-mineralized water tank. This was the same process again, throw the pieces in, mix them up and sieve them out.
So now just to dry them and send them out, once again not so simple. Once wet lego likes to stay wet. We had them in our drying tunnel but the volumes we wanted to put through were too high for the amount of time it was taking so we had to combine efforts with the heat tunnel, compressed air and a large scale "towelling off", again this was adding to the manual labour intensity of the job but we needed to get the same results for all 1 million pieces and this was the only way.
In the end, a four-day job turned into a 6-day job but the customer was more than happy to extend so that we could guarantee the outcome.
What we learnt from this is that you can never underestimate high volume ultrasonic cleaning jobs. Although the actual process of cleaning was simple, throw 1 million parts into the mix and things get vastly more complicated.
To book a Free Trial Clean or to discuss your ultrasonic cleaning requirements with one of our expert staff. Call us today on 01924 495 975 or email sales@sonicsolutionsltd.com