Cleanliness Specifications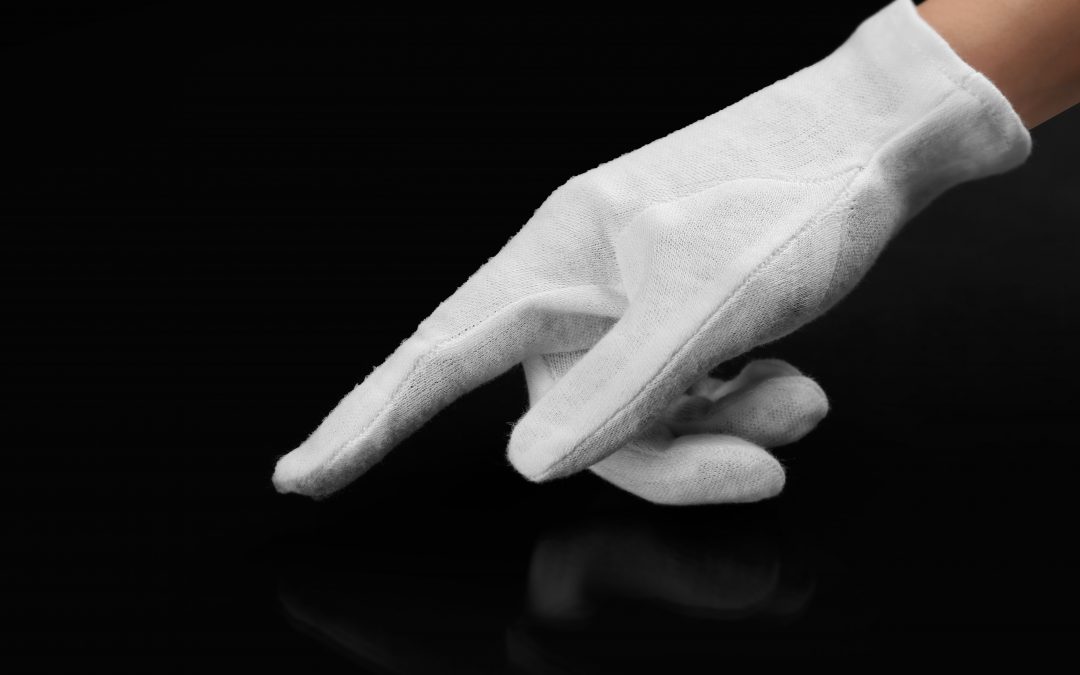 How close to God are you?!  An introduction to Cleanliness Standards.
We are in the business of cleaning and a common question we get asked is "how clean we can get their parts." Wrong question! The question we need to answer is "how clean do we need it ?"
The level of cleanliness required is always determined by the requirements of the next stage of the process that the object being cleaned will go through. It is never about how clean we can get an item, but how clean the item needs to be in order to be fit for purpose. It is always objective and specific.
Definition – Any level of cleanliness is measured and defined, not by the absence of contaminant, since complete absence of anything is both impossible and immeasurable. Rather it is stated as the maximum permitted level of a given contaminant(s). That is, as an amount of contaminant(s) in a given area, volume or on the surfaces of the component to be cleaned.
There are 2 basic approaches to defining the required level of cleanliness;
Stating the maximum number of permitted contaminants of various sizes in a given volume or surface area (ISO standards, and previously National Aerospace Codes (NAS) took this approach);
Defining a cleaning process which, if followed, will result in achieving the desired level of cleanliness (Ministry of Defence (DEF) standards often follow this approach).
The International Organisation for Standardisation (ISO) Have issued a multitude of standards relating to cleanliness in various applications and industries. One of the most popular is ISO 4402, and the table below gives the ISO code relating to the maximum number of particles of various sizes permitted. The lower the code higher the level of cleanliness, hence the lower volume and size of permitted particulate contaminant. Manufacturers of specific items such as hydraulic filters and oils will specify the cleanliness code associated with, and required by, their product for its efficient performance.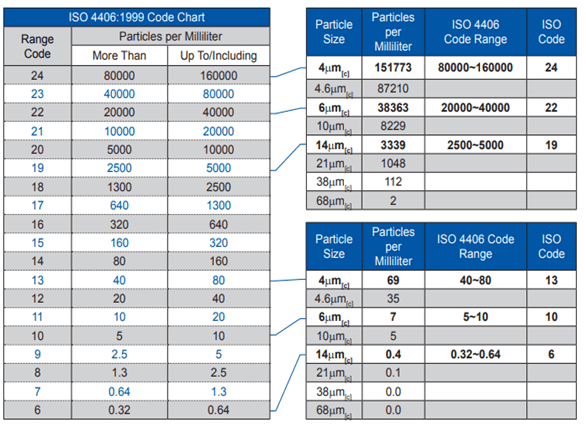 Sometimes a cleanliness standard applying to one area can become a surrogate for another. For instance a hydraulic oil manufacturer that gives an ISO 4406 code for its oil, by inference, defines the cleanliness code for a filter used in such systems. Helpfully leading companies in the sector, such as Parker Hannifin, issue tables of recommended ISO codes numbers for different types of systems, components and sensitivities, which I reproduce below;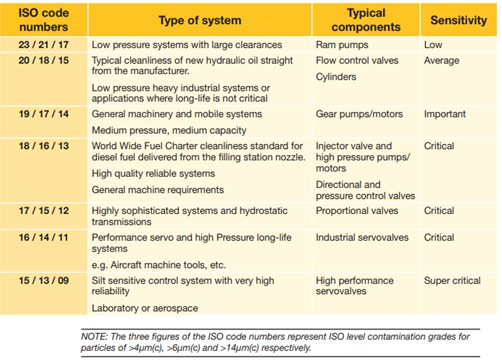 Whilst specific and objective, these standards have 2 major shortcomings;
They do not tell you how to clean an item to achieve this level of cleanliness;
Actual measurement of cleanliness is a complex and expensive exercise, often beyond the capabilities of the manufacturers, particularly on an ongoing basis.
The Ministry of Defence MOD or DEF standards adopted a different approach that overcame these issues, by defining a process that would achieve the levels of cleanliness required in a specific situation.
They cover a variety of different processes and systems including; clean rooms; the handling and installing of non-volatile residue sample planes in environmentally controlled areas (e.g. in spacecraft); standard test methods for determining cleanliness levels; aerospace fluids; pressurised gas analysis; gas blown down systems and non-volatile residue of halogenated solvent extract from aerospace components.
As shown in the figure below, the standards involving particulate cleanliness levels have a set of levels from 1 to 1000. Each level has a set of particle sizes (a different set for each level) with a maximum particle count per foot squared, per meter squared and per litre. Thus, these standards can be used for classifying the cleanliness of both surfaces and fluids. For simplicity, we show only levels 1 to 500 here.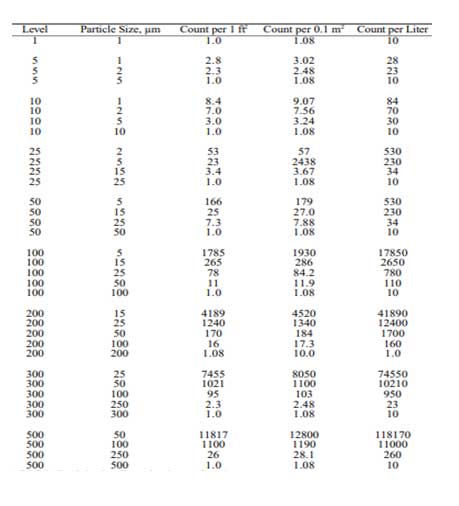 The MOD standards also address the measurement of cleanliness. The methods proposed for the testing of cleanliness include
Direct measurements – analysis of part of the surface, liquid or gas of interest;
Extractive sampling – extracting a small sample of the material of interest for testing, this is the most widely used approach for NVR or particle cleanliness determination) and…
Indirect sampling – testing a sample whose conditions reflect that of the material of interest. This is the least accurate of the three methods but must by necessity be used when the material of interest is inaccessible.
The actual method of testing, sampling and measurement of cleanliness within the standards is done using a variety of methods, which we will address in a future blog.
To understand more about ultrasonic cleaning and how it might benefit you and your application please call or email one of our helpful cleaning experts today on 01924 938052 or sales@sonicsolutionsltd.com