Industrial Parts Cleaning… Buying vs Hiring vs Outsourcing, Which Is Best?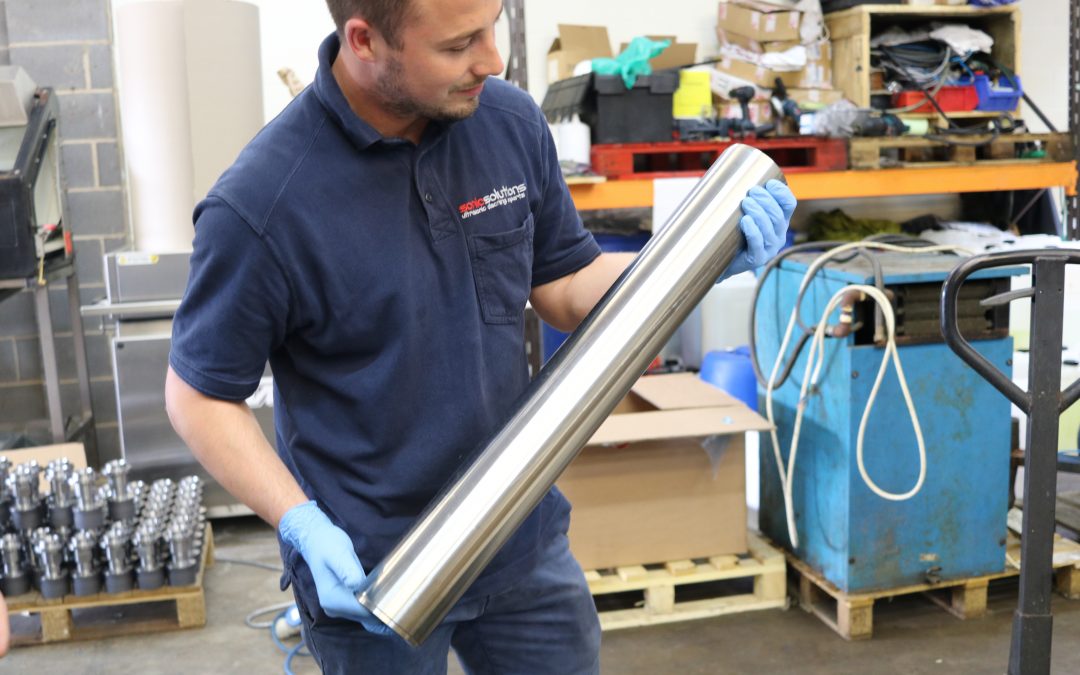 Industrial parts cleaning is essential for keeping your machinery and equipment in the best possible condition. Using the latest cleaning techniques, you can eliminate excess spending and reduce your downtime, helping your business to run smoothly. When it comes to industrial parts cleaning there are various options to choose from. You can purchase your own industrial cleaning tools, hire the equipment you need to do the job yourself, or outsource the task to a specialist. In this article, we are weighing up the pros and cons of each option, to help you decide if buying, hiring, or outsourcing is the best option for your industrial parts cleaning.
Buying Industrial Cleaning Equipment
Many organisations choose to invest in their own equipment for industrial parts cleaning and keep the entire service in house. 
Pros:
You own the equipment 

You have total control over use of the equipment

Always available and always on site for industrial parts cleaning whenever you need it

You set and maintain the standards yourself
Cons:
Capital cost

Maintenance of parts often requires specialist labour

Need to buy consumables

Waste disposal must be handled in house

Additional operation with a different approach to processing/manufacturing 
Costs:
What is the upfront cost? 
Typically a basic ultrasonic machine will cost from £5k to £25k, and a basic rotary jet wash from £10k to £20k.
What are the ongoing costs of operating these?
Running costs for power and chemicals will go from £100 to £1000 per month dependent upon size and usage.
Ultimately the cost of buying industrial part cleaning equipment will depend on:
The size of the machine required

Its complexity, because the more the machine is modified to the specific requirements of cleaning the parts, e.g. spray wash, filtration, oil separation, the more it will cost

Multi process cleaning operations, e.g. wash, rinse, dry

Automated handling to load, move and unload the parts during cleaning without manual handling

Variable operations to accommodate different parts, or different cleaning criteria
FAQs For Buying Industrial Cleaning Equipment:
Who are the most well-known manufacturers/suppliers?
There are more manufacturers of machinery than companies offering industrial cleaning services. Ultrasonic machine manufacturers include:
Allendale

Alphasonics

Camsonic

Caresonic

EJ Electronic

Hilsonic

Mecwash

Technowash

Turbex

Ultrawave
The most suitable manufacturer for you will depend upon your specific requirements and budget. Many manufacturers have particular expertise in an industry so would be better for businesses operating in their area of expertise.
Jet wash machine manufacturers include:
Bio-Circle

Rotajet

Safetykleen

Turbex

Vixen
Similarly to ultrasonic equipment manufacturers which one is best will depend on your specific requirements as again many manufacturers have a specialist expertise in specific industries.
Should you get a solvent or aqueous based one?
The trend is more to the use of aqueous cleaners rather than solvents since these are environmentally and safety wise seen as far better than their solvent equivalents. There are also many legal restrictions on the uses of certain solvents. 
However, the vast majority of aqueous solutions contain some solvents, and there are a wide variety of closed system solvent cleaners that both recondense the solvent cleaner and have very low solvent emissions. 
Open tank solvent cleaning systems are largely consigned to history. However, as a consequence of their more complex nature, solvent cleaning machines do tend to be significantly more expensive than aqueous based cleaners.
What kind of customer is this a good fit for?
Buying equipment is usually the first option considered and is often the best option where all or many of the following factors are in play;
Cleaning is ongoing and an intermediary process between other operations.

Required turnaround times on cleaning are immediate and ongoing. 

Production is continuous rather than batch production.

Parts being cleaned are relatively homogenous and straightforward to clean.

The cleaning process is a single operation rather than multiple processes using different technologies.

Cleaning will be a continuing requirement, and not a temporary one.

The logistics of moving parts off site for cleaning are complex, costly or compromise security. 
Hiring Industrial Cleaning Equipment
If buying isn't the right choice, you might consider hiring equipment for industrial parts cleaning.
Pros:
No upfront capital cost

The hire company should assist in the selection of the right equipment for the job

The hire company will usually supply a replacement machine in the event the hired one stops working

The hire company usually provide support in terms of training staff in the machine's operation, and the chemistry and waste disposal

Costs are fixed and known for the length of the contract

The cleaning operation is still fully under the control of the Company itself
Cons:
Lengthy contracts with expensive termination clauses

The Company will need to provide their own personnel and factory space to operate and house the equipment to do the cleaning 

Services and disposal considerations are still ultimately the responsibility of the Company

Maintaining the required cleanliness standards are still the Company's responsibility.

Variations in quantities, part type, etc.. can mean the original machinery and cleaning process is no longer appropriate or adequate. The hire company may not always be accommodating or responsive to these changes
Costs:
Costs of equipment hire vary tremendously and can take different forms depending upon the hire arrangement of just the machinery, or the more usual machinery, chemical, maintenance and waste disposal. However, costs typically range from £500 to £1,000 per month.
What are the ongoing costs of operating these? 
Again, extremely variable depending on the arrangement. Most contracts do ensure costs remain fairly constant throughout the period, but changes in equipment and frequency of the periodic maintenance/chemical changes will alter the rates.
What can drive the cost up from the "starting from" price? 
The biggest single factor is increasing the frequency of maintenance visits. In fact visits from the hiring Company are probably the biggest single influence on the hire cost after the size of the machine under hire.
FAQs For Hiring Industrial Parts Cleaning Equipment
Where can I hire industrial parts cleaning equipment from? 
Safetykleen are the biggest single hirer of cleaning equipment, but other companies like bio-circle and rotajet are also active in this market as well as straight selling of the equipment.
What should I consider when hiring?
As with any hire contract the devil is in the detail. Particular attention should be paid to:
Frequency of machine maintenance, including replenishment of chemical and disposal of waste, and the costs of increasing and decreasing this frequency.

What happens should the machine break down in terms of response rates and replacement.

The required notice period and penalties for termination of the contract.
Outsourcing Industrial Cleaning Equipment
Another common option for industrial parts cleaning is outsourcing the job to a specialist firm.
Pros:
Outsourced companies like Sonic Solutions offer a range of solutions not just one

No financial outlay on machinery

More cleaning solutions available

No upfront capital cost

No setting up of an in-house cleaning operation requiring trained staff 

No services requirements for water/electric/ventilation/waste disposal/chemical storage & handling etc..

No ongoing maintenance costs of equipment

No ongoing consumables costs for power and chemicals

No lengthy learning curve for getting the right level of cleanliness

Focus remains on own area of expertise, making the product, not cleaning the product
Cons:
Logistics of packing and transporting the items to be cleaned, both direct costs and time delay

Potential exposure to failures of the third party doing the cleaning

Increased risk of damage or loss to items being cleaned while off site

Security risk of sensitive items whilst off site

Lack of knowledge of item being cleaned by those cleaning it compared to those who make or use it
Costs:
What is the cost to outsource industrial parts cleaning?
Cleaning costs vary enormously depending upon the complexity of the clean (particularly multi-process), size/weight and quantities being cleaned, the speed of turnaround required and the frequency of cleaning.
Typically, small simple cleans cost from £50 to £100, whilst more complex cleans will be £1000 upwards. Frequency and volume reduce unit charges but increases total cost.
What can drive the cost up from the "starting from" price? 
Higher levels of contamination, complexity of the item being cleaned, one-off cleans, multi stage (pre-treat, wash, rinse, dry, packaging etc..) and multi cleaning processes (pyrolysis, jet wash, media blast, ultrasonic etc..) can all increase from the base price
FAQs For Outsourcing Industrial Parts Cleaning
Why choose outsourcing over buying or hiring?
The most frequent reason for cleaning being outsourced is that in-house cleaning is unpopular with staff and consequently done very badly. This can frequently result in higher costs attributable to poor quality than the extra cost of subcontracting out the cleaning to an expert who does it properly, first time.
Why does the cost of outsourcing seem high?
The costs of industrial parts cleaning is frequently underestimated by people who do not understand the full process of cleaning and view it as "only cleaning". Where multi process cleaning is required to get the desired level of cleanliness, in-house operations frequently miss steps out with the consequence being that cleanliness specifications are not met.
Is Buying, Hiring, Or Outsourcing The Right Option For My Business?
There is no one size fits all approach to industrial parts cleaning. Every business is different and unique requirements mean that each option needs to be carefully considered. Here we have broken down the three options and the scenarios when they might be most suitable:
Buying equipment for industrial parts cleaning might be the most suitable option if:
The requirement is long term and relatively stable

The cleaning process is well known 

The cleaning process is relatively straightforward

Items to be cleaned are fairly homogeneous

The equipment required is affordable to the business (either low cost, or a financially affluent business)

Cleaning is an intermediate and integral part of a process, which is difficult or impossible to interrupt. Cleaning must therefore be in-house with own machines under the complete control of the business

Intellectual property dictates complete confidentiality of all parts of the production process
Hiring equipment might work for you company if:
The equipment required is not affordable to the business

Items to be cleaned are varied so a wide range of equipment is required.

The cleaning requirement is well known, BUT the volumes and duration of requirement are potentially variable so equipment requirements may have to be revised
Outsourcing industrial parts cleaning could be the perfect solution if:
Your company has little or no cleaning experience or expertise

The cleaning methods and requirements are not well known by your team

In-house cleaning has proven ineffective and costly

There is no scope for setting up an in-house cleaning operation (space, services, environmental issues etc..)

The cleaning requirement is of a specialist nature (often multi staged and multi processed)

The cleaning requirement is for a limited period of time (not warranting the expense of setting up cleaning operations)

The cleaning requirement is critical, vital and immediate and there is insufficient time or resources to set up an in-house cleaning operation (the cleaning contract is a prelude to setting up an in-house cleaning operation)

Cleaning is incompatible with existing operations, be it the noise, chemicals, waste disposal, or other environmental considerations

Cleaning requirements are very variable and in-house cleaning capacity may be overloaded so subcontract cleaning handles the occasional excess load.
At Sonic Solutions, we are experts in industrial parts cleaning and we are here to help! We are more than happy to explore, advise and assist with whichever option works best for you and can offer hire or finance options. Contact our expert team today to discuss your requirements in more detail.